Purposeful

beginnings.

The Innovation Centre was conceived by a group of local entrepreneurs and community leaders with a vision to help advance the growth of the region's innovation ecosystem in a tangible way.

The initial meeting took place in January 2013, construction began in April 2015 and the Innovation Centre opened its doors in April 2017. The long term goal of this bold initiative is to establish the Okanagan as the best place in Canada for entrepreneurs to start and grow innovative, creative technology companies.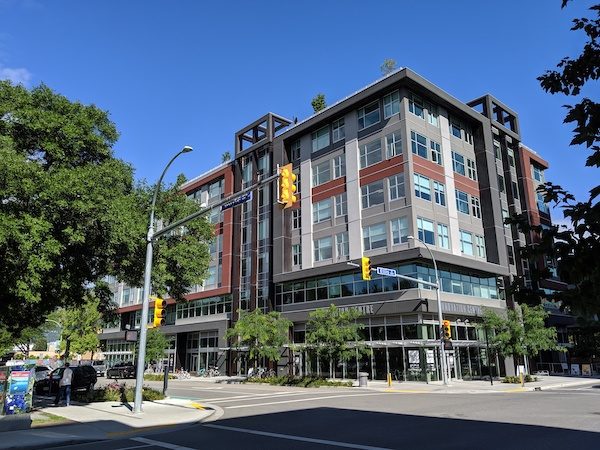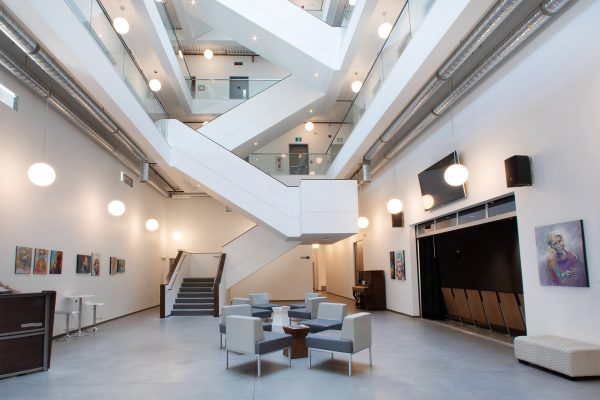 Driving
influences.
Design, functionality and environmental sustainability were all driving influences during the creative process that became the Innovation Centre.
Influenced by the intentional designs of the Google, Apple and Pixar campuses, the Innovation Centre is purposefully built to encourage unplanned encounters and creative collisions. These are facilitated by several shared and community spaces: a floor to ceiling atrium, a rooftop patio and restaurant, a magnificent white staircase and a mezzanine that wraps each floor.

Bringing the outside in.
The designers looked to bring the outside in by incorporating natural textures and features wherever possible—our Living Wall is home to over 3000 plants! We have incredible natural light filtering through the atrium skylight, the multitude of windows on our building's exterior, and the interior glass walls that are used wherever possible. Natural light and plant life benefit the wellness of everybody in the building and allow us to keep energy use low in all common areas.

The
Community

Wall

The Community Wall is designed to engage the community through a fun Q&A and add a colourful, creative splash to the Atrium! It has also proved to be a useful way for groups to gather information. For example, the City of Kelowna used our Community Wall to gain feedback for their new cultural district plans by asking "How can we enhance culture, arts, and heritage in Kelowna?"

Do you have a question you'd like to ask the community? Reach out to us to collaborate!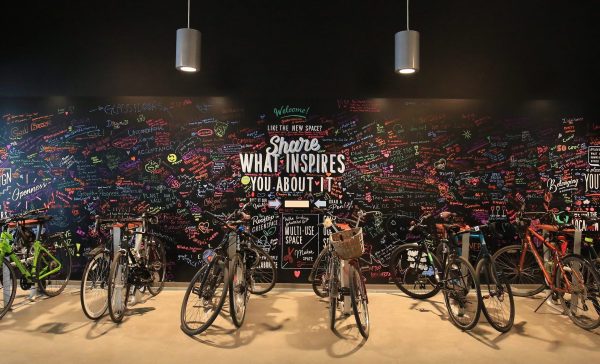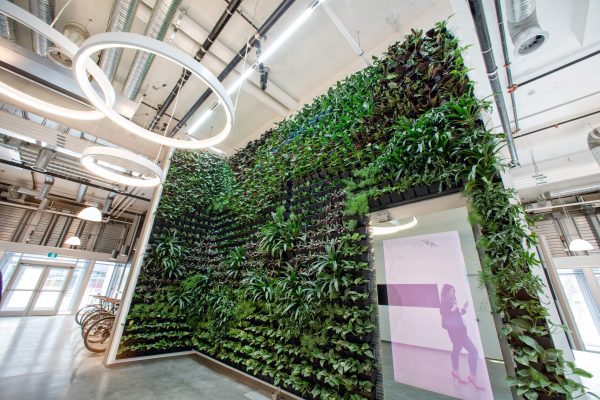 The
Living

Wall

One of the creative visions for the Innovation Centre was to bring the outside in wherever possible, and our Living Wall is a great example of that vision. Spanning over 25 feet in length and 18 feet in height, this custom-designed wall includes over 3000 plants, all of which require low light and low water.

The plants are nurtured by a custom hydroponic water drip system designed by RD Landscaping, with close to zero percent waste and super high efficiency LED grow lights. The Living Wall makes the air in the building cleaner and is a great backdrop for your next Instagram photoshoot!
Projection Mapping
The Innovation Centre uses state of the art projection-mapping technology to turn the Innovation Centre's 70 ft. high staircase into the regions tallest movie screen. With the use of three laser light projectors we have the ability to project stunning HD images and movie files directly on the staircase! On their own the stairs are a beautiful architectural feature, but adding a waterfall, cartoons, or amazing art work add an incredible innovative and creative element and fun experience for all tenants and visitors.
iMirror
The iMirror is a smart, interactive concierge that simplifies, enhances and personalizes a guest's experience. It offers information and provides a seamlessly integrated omnichannel that dramatically enhances visitor engagement.
Built directly into our Living Wall, our iMirror is used to feature the menus of our restaurants and to showcase our community culture!
To see a full demo of the iMirror, visit: imirror.nobal.ca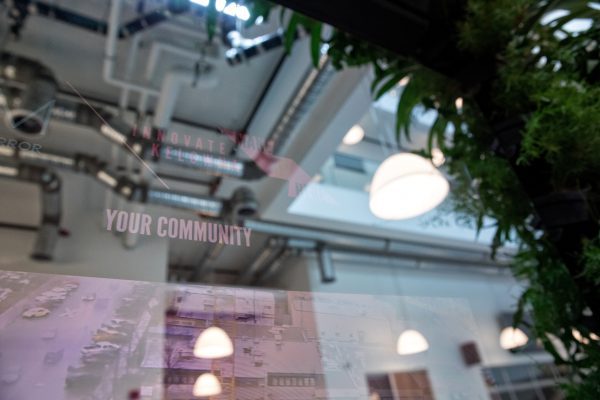 Community

Partnerships

We've collaborated with Metabridge, iGen, TEDxYouth, Startup Weekend, and many other organizations and events whose values and mission align with our own. Currently we're hosting F*ckup Nights on a quarterly basis and Home Grown Market, a brand new local artisan event, every second Saturday! We're proud to be not only a technology centre, but a collaborative, engaging and inclusive community centre too.
Government

Support

The Kelowna Innovation Society (KIS) is a government-funded not-for-profit with a mandate to foster the economic diversification of the Central Okanagan's regional economy through the support and promotion of innovation, technology and entrepreneurship. KIS works closely with all levels of government and with entrepreneurs, industry, academia and the private sector to deliver on this mandate.

One of the key initiatives for KIS was to establish and develop space within the Innovation Centre specifically designed to support entrepreneurs and founders of early stage companies and supporting organizations from the community.

Through its efforts, KIS was able to secure financial support to design, build and equip 20,000 sq. ft. of space in the Innovation Centre that includes the entire 2nd floor and the Innovation Theatre on the main floor.

KIS would like to thank the federal government through Western Economic Diversification, the provincial government through InnovateBC and the City of Kelowna for their support and contributions to the Innovation Centre project.